Required Dimensions And Thickness Of Plywood For Roofing
OSB vs. Plywood: Which Should You Choose for Your Roof Deck?
Plywood typically comes in 4×8 ft. sheet with varying thickness. The minimum thickness of plywood used for roofing is 3/8th of an inch.
This kind of plywood can be used on roofs with minimal load steeper rather than flatter roofs will have lesser load per sq. foot and with a maximum of spacing of 16 inches between rafters.
The ideal plywood thickness for the standard rafter spacing of 24 inches is 5/8th of an inch. This carries enough structural integrity for most roof loads.
However, 3/4th inch plywood is also used for a roofing system that has a heavier load snowfall and ice accumulation can affect the load put on a roof.
For the less standard 20-inch apart rafters, plywood with ½ inch or 5/8th inch thickness can be used.
What Is The Minimum Thickness Of Roof Sheathing
Minimum sheathing requirements dictate that thick is the lowest you can go in terms of thickness. That minimum number refers to either OSB or plywood.
Even you have a thick piece of strand board and the same for plywood, they may likely be rated for different spans. Thus not all sheathing was created equal. There are even different types of plywood of the same thickness that will be rated for different spans, so it is critical to pay attention to the labels on the actual panel.
And if you are looking for a deal, it may pay to hesitate before you go cheap and purchase panels. Remember that is very thin, and any load placed atop panels will likely, over time, make the strand board or ply panels sag even if placed at the rafter/truss spans as designated by the panel label.
Even in your neighborhood youll notice homes with roofing that sags. Often you can see the outline of the rafters or trusses beneath the shingles. Will thicker sheathing help mitigate that problem? Probably, but the key is not to sheath using the minimum thickness.
How To Calculate How Much Roof Decking You Need
Aside from determining how thick your roof sheathing should be, you also want to calculate how much material you need upfront. The average-sized plywood sheet of four-by-eight feet is 32 square feet. When you know your roofs total square footage, simply divide it by 32, and youll get the needed amount.
Also, make sure to calculate a 10 to 15 percent waste to ensure you dont run out of material mid-installation. This will give you a pretty precise figure on how many square feet, and therefore the number of sheets, you need to buy.
Recommended Reading: How To Build A Pergola With Metal Roof
Is Roof Sheathing The Same As Roof Decking
Many people wonder what the difference is between the roof sheathing and the roof decking on a house. They are the same because roof sheathing is also known as roof decking.
Trusses and rafters on a roof amount to a mere skeleton a skeleton needs meat to be considered. In this case, the roof sheathing seals the spaces and adds a solid face to the structure.
The roof comprises three layers the skeleton, the center core, and the roofing material. The roof sheathing is sandwiched between the structure and the shingles and offers base and protection to both.
Plywood For Roof Sheathing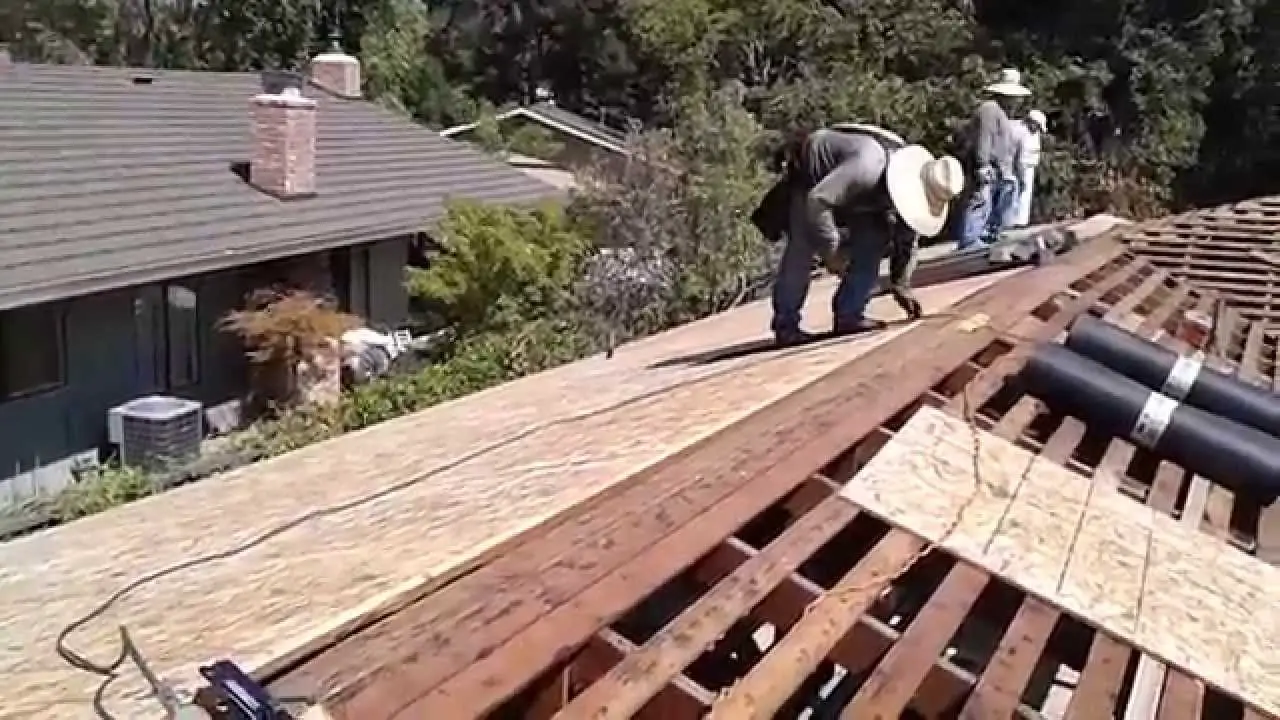 Roof sheathing or roof decking involves installing a layer of plywood or OSB to cover the joists and trusses, the beams that make up the skeleton structure of a roof.
The sheathing is placed below the roofs shingles and above its framework. It provides the roofing tiles and shingles with a support layer to rest on.
The purpose of sheathing is to:
Provide support as it prevents the direct attachment of shingles to joists and trusses by evenly distributing their weight shingles.
Provide extra protection by incorporating an additional layer of insulation to resist leaks and reduce the spread of fires.
Roof sheathing is typically made out of wood, either plywood or OSB. While the latter is less expensive, its more fragile and lightweight, so many roofers go for plywood.
You May Like: How To Install Roof Underlayment
How Much Does Marine Plywood Weigh
: Despite its name, this is not a waterproof plywood. It is manufactured using water-resistant adhesive and very high quality outer plies which help prevent moisture from penetrating the panel.
It is designed to be used where the material will be subjected to higher-than-normal amounts of moisture, such as in coastal environments.
A typical 4 x 8 sheet of 1/2-inch Marine Plywood weighs around 51 lbs.
How Much Does Mdo Weigh
MDO: Medium Density Overlay is a type of exterior plywood specifically designed to be painted easily, holding the paint better, and looking better after painting, than other types of engineered wood panels.
The wood plies are typically softwood, and a thick, smooth layer of a highly water-resistant resin is applied to one or both sides of the panel.
A typical 4 x 8 sheet of 1/2-inch MDO weighs around 48 lbs.
Also Check: What Is The Most Durable Type Of Roof
Don't Miss: How Often To Replace Roof In Florida
Staples V 8d Common Nails For Sheathing
Staples v 8d Common Nails for Sheathing?
If medium crown power driven staples are use instead of 8d common nails for fastners on roof or wall sheathing , is the nailing schedule the same as code requires for nails.
What length of staple should be used .
And, what is the proper orientation of the staple crown .
Are there any structural integrity advantages of one fastener over the other?
Thanks
|#1

Where do you live? It is my understanding that in some states staples are not allowed to be used for roof sheathing. Im not sure about wall sheathing. Your building inspector can tell you, or it will say something in the buiding code.
|#2

I have never seen a code concerning staples even though we have used them for about 25 years on sheathing and decking. We use the 2 inch long by 12 inch crown staple and we put them 90 degrees to the rafter or stud. On the joints we put the staples parallel to the rafters or studs. The holding power is tremendous. We put the staples about 10 inches apart. WE have used the framing gun and shot #8 sinkers. The duo fast guns I use come with an extra tip to put on the nose so that the #8 nail does not shoot through the decking. The staple gun is much faster.

James Hart
No staples in Florida. And, to top that, the new codes will be requiring ring shank 8s for roof sheathing . No more 8d commons and most likely no more alternates like the 8d CCs for high wind areas.
kinda on this subject, a short article from JLC nov-04
How Superior Roofing Can Help You
HOW TO INSTALL PLWOOD SHEATHING!.The .best installation video. Roofing video
We are roofing specialists. We have nearly 30 years of experience, and we are one of the few GAF Master Elite contractors in the country. To earn this designation, we had to prove our skills and knowledge, and meet some of the most rigorous standards in the roofing industry. Our roofing experts are familiar with various types of roofing materials and styles, and use only the most reputable and dependable roofing products.
If you need a roof repair or replacement, then give Superior Roofing a call. Our comprehensive roof inspections will find and fix your roofs problems before they cause costly water damage. We can also help you file insurance claims because of our many years of experience working with insurance companies and adjusters. Call us at if you are in Phenix City to learn more about our services and products, or to get a free estimate. We serve Phenix City, AL, and nearby areas.
Recommended Reading: De Icing Cable For Roofs And Gutters
What Is The Standard Roof Sheathing Thickness
Standard roof sheathing thickness is ½ to thick. If you are using OSB for your roof deck, then is the recommended thickness. For plywood, which is slightly stronger than strand board, ½ thick is appropriate.
Another factor is how far apart your trusses or rafters are spaced. 24 and 16 are the most common spacing, and youll often find 16 standard for rafters and 24 standard for trusses. A thicker panel may be required for 24 compared to 16, so if you have larger gaps between the framing, consider a thicker substrate.
It is important to note that there is no standard sheathing thickness, at least officially. When you purchase roof decking, it will have an APA stamp with two numbers beneath, divided by a slash. The first number tells you the maximum distance that the panel can bridge between gaps.
Therefore if you pick up some sheathing that is 12/0, that means the max gap it can bridge between rafters or trusses is 12. If you get panels that say 24/0, it can span up to 24 between framing members. Therefore, there are many options available.
Types Of Roof Sheathing
There are many different types of roof sheathing, the main ones are:
OSB uses adhesives compressed with layers of wood chips that alternate direction between each layer
Plywood compresses large, ultra-thin sheets of wood into a sandwich using adhesives and heat to form one board
Dimensional Lumber an older way to sheath a house, in which tongue and groove lumber was frequently used or 1 lumber butting up against one another
Today the most common types of sheathing are plywood or strand board. Plywood is more expensive but slightly stronger. Dimensional lumber is not used because it would be much more expensive and provides a lesser surface for nails or screws due to gaps between all the boards.
Many builders who are redoing a roof that has original dimensional lumber as a roof deck will put plywood or OSB over the top before finishing the roof with new roofing material as it is simply a more reliable substrate than many pieces of lumber on end.
Don't Miss: How To Tell Roof Damage From Hail
Roof Decking Thickness: A Real
If you have a standard roof pitch with roof rafters set 16 apart, an excellent way to go about it would be to install a roof decking thats at least thick. Again, keep in mind that this is the minimal roof decking thickness recommended in such a situation.
If you have a roofing structure comprised of rafters that are 20 apart or even more, you should install at least ½ or plywood decking. For most US homes, the most common rafter spacing is 24. If you have such a roofing structure, plywood decking will do the job. Its sturdy enough to support most types of roofs.
The Benefit Of Using Plywood
Its a versatile product.
Im going to talk about a game that I enjoy playing here. One of the most common places that plywood is used is in the bowling alley. The plywood used here as the surface material is very durable and robust. This way, the balls weight does not fall on the floor, and you will not be halfway happy to play. Also, many different products can be made with plywood. Rocking chairs, roof structure, and you will be amazed that the piano is also made of plywood. These examples show that the plywood product is very versatile.
The efficiency is pretty high.
The reason for its high efficiency is that it can be kept for many years. There is no waste in the manufacture of plywood. So its a very efficient product.
Environmentally friendly recyclable product.
Wooden plywood is entirely environmentally friendly and easy to recycle. In a world where global warming prevails, the use of plywood must increase.
Quickly absorbs moisture and dries very quickly.
This is one of the reasons it is so often used for decoration.
Plywood used in high water environments performs well for the consumer.
You May Like: How To Keep Squirrels Off Your Roof
Is Sheathing The Same As Plywood
It is a very valid question in all respects, but roof sheathing cannot be the same as plywood.
They are different because roof sheathing is the word used to refer to the process of protecting the roof, while plywood is one among many of the materials installed to provide roof sheathing or protection to the top.
The former is the process, and the latter is a product. Many people confuse them mainly because plywood roof sheathing was a popular product that everyone was applying on their roofs.
In its way, the plywood material became a big part of the roof sheathing therefore, many understood it as the same.
But now, other materials are emerging to be more popular than plywood, e.g., OSB, concrete, and steel.
What Type Of Nails For Felt/underlayment
Roofing felt is a type of underlayment that professionals install beneath a roofs shingles. Unlike selfadhering underlayments, such as ice and water protector, felt underlayment needs to be fastened in place with nails. Specifically, youll need roofing cap nails. These have large plastic caps for heads, which help prevent water intrusion.
Dont confuse these cap nails with gasket roofing nails. Roofing nails with gaskets are intended for metal roofs. The gasket is rubber, not plastic. You want roofing nails with plastic washers for roof underlayment.
Recommended Reading: Does Homeowners Insurance Cover Roof Damage From Wind
The Minimum Plywood For Roofing
Related Articles
Roofs are framed with rafters or trusses, which are rafters joined by internal braces so they install as a single component. Rafters run from the peak of the roof to the eaves. They must be covered with some type of sheathing or decking before most finishing roof materials can be applied. The most common materials for this are oriented strand board or plywood, both formed of layers of wood bonded into a panel. Plywood used for roof decking is typically called sheathing and carries a grade stamp indicating its load and span ratings and other performance factors.
Roof Sheathing Code Requirements
Should I use OSB or Plywood for a roof deck?
The minimum requirement for roof sheathing is thick. There is no upper limit on how thick your roof substrate is. Thickness allowed depends on how far apart rafters or trusses are spaced and the rating of your roof decking. For instance, there are panels rated for 24 rafter spacing.
Another consideration is if your rafter or truss spacing allows you to place your sheathing usually 4×8 panels so that each edge of the panel is supported. If that is the case, youll find that your framing can support thinner panels than if an edge does not sit directly above a framing member.
Of course, nearly all frames are designed to fit roof sheathing edges, so when you install your panels youll be able to screw or nail your panel edges into the framing. However, if you are retrofitting an old house or shed, you may encounter unusual spacings which will indicate your roof decking may need to be thicker than the spacing and label indicate.
Finally, code requirements do not differentiate between types of roof decks. Why? Because the APA the Engineered Wood Association creates labels for every piece of lumber they certify, OSB or plywood. The label clearly states maximum spans and loads allowed for that piece of roof substrate.
This makes it simpler for the consumer to pick out the right piece of product under their finished roof without having to worry about telling the difference between types of wood products.
Don't Miss: Don Poss Roofing Inverness Fl
What Size Osb Should Be Used For Roofing
Typical types of wood used for roof sheathing are oriented strand board, known as OSB, and plywood, the most popular being OSB. Sheets of 7/16-inch thick, with no edge support, can be used in an area where the snow load is 30 pounds per square foot. With edge support and the same snow load, 3/8-inch OSB can be used.
Also Check: How Much For A Patio Roof
Why Is Plywood Used In Roofing
Roofs are built from rafters and trusses, which make up the framework of the roof, but a flat deck then needs to be laid on top of the frame, which the final roof material can be fixed to, for example, tiles or felt. Plywood is an ideal material for the deck of a roof because it is inexpensive and durable. Using solid wood would be a waste in this instance because the deck of the roof wont be seen once the roof is complete, so it doesnt matter what it looks like. Plywood offers the strength required to hold the load of the material which will go on top of it, along with heavy snowfall or ice.
Plywood has a good level of water resistance, which is useful when used in outdoor applications such as roofing. In the event that it does expand due to moisture, it does so evenly so that the structure of the roof is not affected. It also dries out quickly, which reduces the chance of mold buildup and other moisture-related issues.
Plywood is also easy to work with and can be cut to size using handheld saws or circular saws. The standard size for sheets of plywood is four feet by eight feet, which makes it a reasonable size to work with while also covering a decent surface area on the roof. Larger sizes are available, though less common. Plywood is also available in various thicknesses to suit different loads.
You May Like: What Is A Roof Certification Form
How Much Does Roof Sheathing Cost
During roofing, roof sheathing is priced cumulatively with the rest of the roofing work. You cannot have one contractor lay down the skeleton and another layout the roofing material.
But before the labor charge agreement, the roofing contractors will know which roof sheathing material to use.
Wood, Concrete, and Steel are priced differently. But different wooden materials could be priced the same as they are made from the same material, have the exact measurements, and even the same thickness.
The difference between the OSB and plywood costs around $50-$60, where OSB could cost $600 and plywood $660. It is the cost of installing 500 square feet of roof.