What To Do If Your Roof Has Wind Damage
Wind Causes Damage Throughout Area
If you have roof damage caused by wind and/or flying debris, its important to get it fixed immediately. The longer you wait, the more damage will occur. Roof replacement and roof repair costs a lot less when you dont have to add in the other costs of repairing leaks and water damage. Contact your insurance agent to assess the situation and determine whether you should file a claim. Thoroughly document any damage that occurred and keep receipts for all work, including any you do yourself, such as covering windows or holes in your roof to facilitate reimbursement if you file a claim. Many policies will cover these expenses when submitted with a claim.
Tips To Help Protect Your Roof From Damage
Keep Trees Trimmed
Overhanging tree branches can scratch the surface of your roof, potentially causing damage. During a storm, large or heavy branches can even poke holes through shingles, which results in leaks. You can avoid these problems by making sure to keep trees around your home trimmed.
Bring Outdoor Furniture and Decor Indoors
If there is a storm forecast, its best to bring your outdoor furniture and decorations inside. Any items that could become airborne during a serious weather event should be stored indoors. Even heavy items may get carried away by the wind and hit your home if conditions are harsh enough.
Schedule Regular Roof Inspections and Maintenance
Roofing systems that are in poor condition are more likely to suffer wind damage. Scheduling routine inspections and maintenance will go a long way in extending the life of your roof. Doing so also helps in early detection of minor issues before they worsen and require costly repairs. By keeping your roof in great shape, you are also improving its performance and ability to withstand harsh outdoor conditions.
What Does Wind Damage Look Like On A Roof
In 2021 alone, there were more than 13,000 reports of severe wind weather. If you live in an area that is not tornado or hurricane-prone, wind damage may not even cross your mind. The truth is that wind damage can happen anywhere! The less aware you are of wind damage, the more likely your roof can be severely damaged over time. Being able to identify what wind damage looks like on a roof helps keep your home safe!
It is important to be mindful of the high-speed wind storms that could happen in your area to know the risk that your roof could experience wind damage. Wind damage to a roof typically affects the shingles the most, so it's important to know what wind speeds your shingles can withstand. Roof shingles usually can tolerate up to 60 mile per hour winds but it depends on the series of the shingle for high wind ratings. However, if you live in a tornado or hurricane-prone area, you may want to go for a metal roof that can combat winds up to 140 miles per hour.
Moreover, one wind storm does not necessarily cause extreme damage to your roof. Over time, slower and weaker winds can begin to lift up your shingles. As your shingles lift up, your roof is now susceptible to water damage. Older roofs are also more likely to experience wind damage.
Read Also: How Much Roof Overhang On Shed
Hire A Colorado Roofing Contractor
If your roof has experienced wind damage or is needing an inspection after heavy winds or a storm, call a local Colorado roofing company. At 970 Services, we are licensed and insured roofing contractors with plenty of experience in repairing roof damages caused by wind. Colorado homes on the Front Range get a lot of special attention when the high winds come through since many of them are affected by wind damages.
Insurance companies typically cover wind damage to roofs! Well work with your insurance company to ensure that you pay less out-of-pocket costs.It sometimes takes an expert to inspect and discover wind damages that have troubled your roof. If you give us a call today, well inspect your roof at no cost. We will repair your roof from these damages and prevent wind damages from affecting your roof in the future. Dont let the winds destroy your home!
How To Spot Wind Damage
Roof Leaks: These are perhaps the easiest to find, simply because there is water coming into yourhouse where it shouldnt. Look in your attic or on your top floor for wet spots or waterdripping from the ceiling. Be sure to call an expert roofer immediately!
Missing Shingles: Strong winds, heavy rain, or falling tree branches can pull off your roofs shingles
Curling Shingles: Curling shingles are most often found at stress points on the roof, i.e. the edges, the corners, near the chimney, at the ridge, etc. When shingles are curled, they can no longer keep water from leaking through the roof, although these are harder to find than a shingle which is simply missing.
Lifting Shingles: Difficult to see unless youre actually looking for them, the shingles look intact from the ground. However, the nails have loosened, lifting the shingle up, and potentially breaking the sealant between each shingle layer, leading to an increase in the likelihood of a leak
The Gutter: High winds and heavy rains can wash away the granules from the shingle, and load them into the gutter. Look for excessive shingle granules in the gutter, and if you find them, call a reputable roofer to come out and check your roof for repair.
Chimney Flashing: Look to see if the chimney flashing is missing or split. This is a stress point for high winds, which can easily be lifted by a strong wind hitting at just the right angle
Also Check: Cost To Install Trusses
How Strong Does Wind Have To Be To Damage My Roof
The National Weather Service of Green Bay, Wisconsin shares some tips on telling the difference between a tornado, a funnel cloud, and a wall cloud. It also shows how to know the speed at which the wind was traveling, based on the damage that occurs. The varying speeds of wind associated with their potential damage are listed on their quicksheet as follows:
25-30 mph: Large branches move whistling heard in wires.
30-40 mph: Whole trees move.
40-45 mph: Twigs and small branches break walking impeded.
45-55 mph: Larger branches and weak limbs may break slight structural damage occurs.
55-65 mph: Moderate structural and tree damage occurred.
65+ mph: Heavy to severe structural and tree damage occurred.
As you can see, winds of less than 45 mph may cause a little bit of a mess, but hardly any severe damage will occur. Though you might find your patio umbrella in the neighbors yard the next day, its safe to say, that despite the wind howling outside, you should be safe from any legitimate landscape or property damage.
As you hit that 45 mph mark and beyond, however, you could expect to see at least some damage to your landscaping, if not your home or other property. Starting at 45 mph, the wind itself can lift loose shingles, and even cause weak trees or limbs to break off and cause damage to your home.
What Happens To Your House If You Get Wind Damage
However, small amounts of hail and wind damage will drastically shorten the life of your roof, your siding, the paint or stain on your exterior, window screens, and more. If you have noticed neighbors getting work done, you can be 99% sure that you will need a new roof and may have other covered damages to your property as well.
Don't Miss: Add Overhang To Shed
How To Spot Wind Damage On Your Roof
The most prominent type of roof damage is shingles being blown off the roof deck. Missing shingles means your roof is not impervious to precipitation, which can lead to water damage. While missing shingles can be easy to spot, a broken adhesive seal can be a problem. This is harder to spot but leaves the water-shedding protection broken.
If you have experienced a storm with strong winds or see any missing shingle spots on your roof, schedule your free roof inspection today with Roof It Forward today.
Here Are Just A Few Ways That Berlet Roofing Handles Insurance Claims:
Strong wind causes walkway roof to collapse at Teluk Intan Hospital, 15 cars damaged
Free claims management and assistance for wind, ice, and hail damaged roofs
Guaranteed roof replacement for the insurance company negotiated price
Complimentary roof analysis prior to filing a claim
Your insurance claim should be a well-handled and worry-free process. When working with Berlet Roofing, we guarantee that your roof will be installed for little to no out of pocket cost and that the BEST roofing team in North West Colorado will not only replace your roof but work with your insurance company directly too! Give us a call TODAY to get a complimentary roof analysis!
Recommended Reading: Cost To Reseal Rv Roof
How To Protect Your Shingles From Wind Damage
Here are three simple ways that you canprotect your roof from the wind so that when the next storm rolls in, you can rest easy knowing your roof will make it through.
Secure any loose shingles if a storm is headed your way
Keep the trees closest to your home trimmed and away from your roof
Visually inspect your roof before a storm look for any debris, clogged gutters, or blocked drains
If You Have Damage Claim It
Filing any claims due to tornadoes, hail storms hurricanes and other acts of God weather related events are non chargeable claims. They cannot raise your rates individually for filing these types of claims and they cannot drop you, as these are circumstances beyond your control.
If you suspect you have damage and you dont do your best to mitigate the problem, you may be liable for any further damages that occur.
Insurance companies put time limitations on the ability to file claims for weather related damages.Some has short as one year
Wind damage doesnt always look severe. Damaged shingles often look fine from the ground but , they can cause leaking at anytime.
Since this is a non chargeable claim and you only have a limited time to make it , its a good idea to do so. The insurance companies are not paying for roofs that have no damage. So have them meet your contractor on the property to put your mind at ease
You May Like: Skylight Metal Roof
How Do I Know If My Roof Has Storm Damage
Since there is no way to determine whether your roof would be damaged by wind, it is prudent to inspect your roof following storms or strong winds. It would help if you were on the lookout for signs of roof deterioration to prevent more costly replacements in the future. Below are a few indicators that a storm has damaged the roof:
What To Do If Wind Damages Your Roof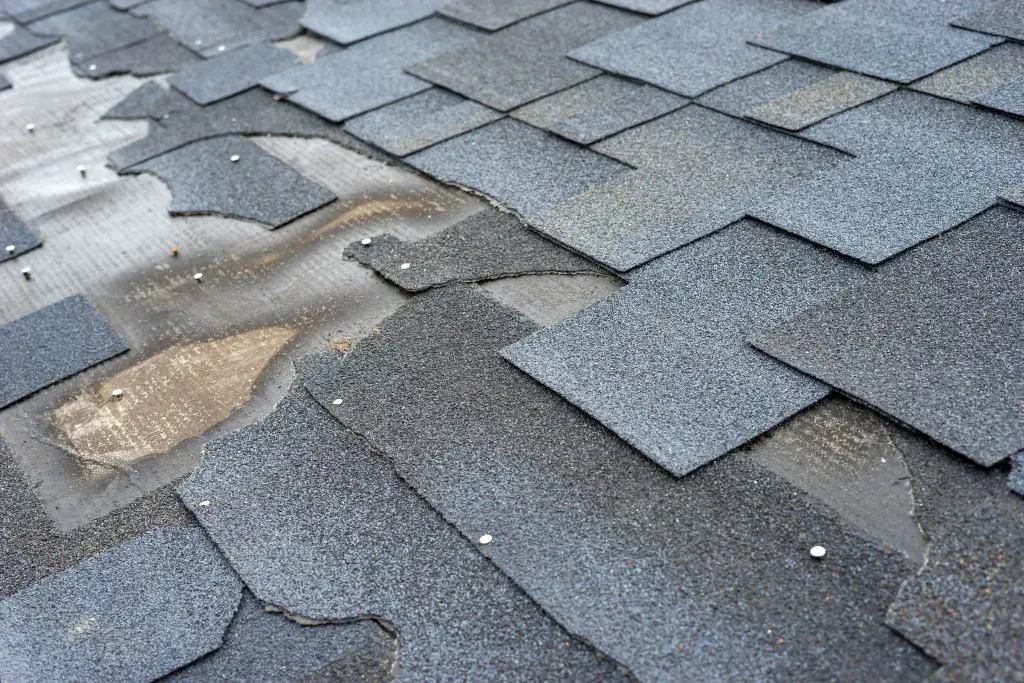 If a severe storm has recently rolled through your area…
…you may be wondering if you have wind damage or hail damage to your roof.
Don't wait to contact a professional roofing contractor.
Our team of public adjusters, engineers and building consultants can help you get the correct repair or replacement for your damaged roof.
Emergency Roofing Services & Water Mitigation
RestoreMasters specializes in responding to large loss claims that occur during severe storms.
The first thing we do is stop the inflow of water into your property.
To do this you need a roofing contractor that specializes in emergency roof repairs.
Emergency roofing services include: structural repairs for catastrophic damage, shrink wrap roofing, tarping, loose lay, temporary repairs and water mitigation.
After that.
We'll put a plan together to offer a permanent repair or replacement solution.
You May Like: Replacing Roof Trusses
Opt For Multiple Roof Slopes
Two-slope gable roofs are common, but they are not the most wind-resistant choice for a roof. High wind forces can cause roofs to lift from your home, but roofs with 4 or more roof planes, such as the popular hip roof, perform better than popular 2 panel gable roofs when exposed to high wind force. These roofs are a great option for homes in regions susceptible to tornadoes.
How Does Wind Damage Your Roof
Some roofs can withstand extreme winds…
…while some older roofs can be damaged by wind speeds below 50 miles per hour.
The severity of wind damage to a roof structure varies depending on several factors, including:
Type and age the roofing materials
Presence of flying debris
Building geometry and shape of the roof
Building height and orientation to other buildings
Quality of roof installation
As wind flows around and over buildings, it can produce very high negative pressures creating suction…
And positive pressures creating blunt force pushing on roofing materials, under gables or eaves.
These pressures create tremendous uplift on roofing materials, sometimes tearing the roof off at high speeds.
Suction and uplift near the leading edge of a flat roof can cause roofing materials to bellow upward and tear.
Wind then gets under the resulting "opening" and can tear large sections of the roof off.
Each roof performs differently in wind, and the quality of installation makes a big difference.
On sloped roofing systems , uplift pressures are highest along the windward corners, rakes, eaves, and ridges. Code-compliant materials and wind-specific design engineering play a huge role in roof success or failure during high winds.
Some roof designs are better than others when it comes to withstanding roof wind damage.
When designing a new roofing system…
…it's important to consult an engineer to validate the full scope of code requirements for the building's location.
Don't Miss: How Many Screws Per Sheet Of Metal Roofing
Debris Tree Branches And A Wind Damaged Roof
Wind storms and other significant weather events can also cause debris like broken glass from windows, tree branches, and other items that could potentially damage your property can often be just as or even more damaging to your roof than the strong winds themselves.
Tree branches and glass can gouge, scratch, or even puncture your roofing materials in addition to the wind damage.
You can protect your property as much as you can by keeping any trees trimmed and free of overhanging branches near your roof.
After a major wind storm, thunderstorm, or similar weather, you should check out your roof and the rest of your property for debris on the roof along with the gutters and downspouts, because tree branches, leaves, and such can clog them up, which can cause plenty of issues in the future.
Fallen trees and other large objects are best removed by professionals with the experience and equipment to execute these tasks safely do not attempt to remove fallen trees, large branches, or similar debris from wind damage on your own.
Case In Point: The Salt Lake And Davis County Windstorm Of September 2020
70 mph winds damage trees, roofs in Cocoa
Tuesday, September 8, 2020, was a historic day for Utah. On that day, hurricane-force winds blew in and wreaked havoc across Salt Lake and Davis counties, taking down hundreds of 100-year-old trees and knocking out power for 180,000 residents. On top of all this, thousands of homes also suffered wind damage to their roof.
While costs of damages for this storm are still being calculated, a similar Utah windstorm in 2011 ended up totaling over $20 million.
Read Also: Average Shingle Roof Cost
Misconceptions Of Wind Damage To Asphalt Composition Shingles
The topic of wind-lifted shingles remains a controversial subject in the roofing industry. There are many misconceptions and a number of issues with asphalt shingles that are commonly incorrectly attributed to wind effects. Some of the current and most hotly debated issues relate to the assertions by some that:
Wind-lifted or wind-damaged shingles are not always visually apparent, but are damaging to the roof.
Any shingle with inadequate adhesion is a wind-lifted or wind-damaged shingle.
Empirical tests can easily demonstrate the strength reduction of a shingle after a storm event.
This article discusses these positions and the misconceptions associated with these positions.
Asphalt Roofing Shingles & Wind Resistance
The roof is an easy target for one of Mother Natures most unpredictable and powerful forces wind.
Strong winds can cause sudden, devastating roof damage when a severe storm moves through, but asphalt roof shingles can also be negatively impacted on windy days when theres no rain, hail, sleet, or snow in the forecast.
If youre concerned about potential roof damage from the wind on your asphalt shingle roof, heres a crash course on why it happens, how to spot signs of roof damage, and the lowdown on asphalt roofing shingles that are specifically designed for wind resistance.
Recommended Reading: Metal Roof Extension
How Do You Know If You Have Roof Damage
If you dont know what roof damage signs to look for, note that it leaves your home vulnerable to severe damage, starting with mildew and mold, water rot, and wildlife infestations. This can create thousands of dollars in repairs and replacements. To avoid that from happening, here are the warning signs to look for with hail, ice, rain, or wind-damaged roofs:
Soffit And Fascia Damage
Your soffit and fascia are great places to check in your search for wind damage. The fascia is the visible board that sits against the roofline, and the soffit is the underside of a roof that extends past the houses exterior walls.
Both the fascia and the soffit keep water from entering your roofing system, and both are susceptible to wind damage.
Intense wind storms can cause cracks, bends, or loosening of these pieces, which can open your roof up to water damage in the future. If you notice damage to the edge of your roof, call a professional roofing company to inspect further.
You May Like: How To Repair Roof Trusses