Remove Old Roofing And Repair Any Damage
Install Corrugated Metal Roofing. EASY VIDEO Screw Placement Screw Location Overlapping Panels
While it is possible to install a metal roof over old asphalt shingles, a full tear-off of the old roof is highly recommended. Removing the old roof will allow you to inspect the sheathing and flashing and replace any problem areas before moving forward. That way, the sheathing and flashing can be inspected before the new roof goes down, reducing the chance of a leak.
Start from the top of the roof and remove the old shingles along with the flashing, underlayment and vents.
Hammer down or pull any large nails that are exposed by the removal.
Inspect the underlying roof sheathing for damage and make any needed repairs with sealants and roofing adhesive.
Install a layer of roofing underlayment, including a layer of felt paper or rosin slipsheet, as recommended by the roofing manufacturer. Metal panels expand and contract at different rates than the sheathing, so its important to follow manufacturers guidelines regarding underlayment.
Why You Should Use A Screw Gun To Fasten Metal Roofing Fasteners
Using the right tools is an essential step to prevent maintenance issues and roof failures. You must fit the tool to the fastener. You need an actual screw gun and not a drill or an impact driver. When you use a drill and let go of the trigger it does not disengage. You have to release the trigger at the correct moment or the screws will be over driven, damaging the washers and possibly the panels. Using an Impact gun to fasten screws is the single biggest cause of screw failures.
In addition, you can under-drive the fasteners which will create a leak point. A drill or an impact gun could work, but unless you have a lot of experience you are likely to incorrectly tighten the fastener. Using a real screw gun such as the Dewalt DW266, DW267, DW268 or the Milwaukee 6780-20 and 6790-20 lessens this possibility.
Lay And Secure The First Metal Panel
When laying the metal, you will need to start from the bottom corner of the roof and work across. After you have finished each row of panels, you will then need to start a new row that overlaps the old row by at least 4 inches.
You can think of this process as moving across the bottom of the roof and then progressively getting higher and higher until you reach the peak.
When you start with the first metal panel, position it so that it overhangs the edge by at least 4 inches. Now slide a washer onto a 1 ½-inch wood screw and use your screwdriver to secure it to the plywood of the roof.
As a rule of thumb, you want it to be tight enough to hold it in place, but not so tight that youâve dimpled the metal. Then, add screws approximately every 8 inches along the outside edge and bottom of the panel.
Don't Miss: What Is Soft Wash Roof Cleaning
Choosing Your Corrugated Sheets
Corrugated roof sheets are a common sight up and down the UK and right across the globe. Theyre incredibly popular as a roof covering for all sorts of structures, and can even be used as a low-cost, durable alternative to UPVC cladding.
Whilst our corrugated roofing range is extensive, this guide is going to speak about five of our most popular materials Bitumen, Metal, Polycarbonate, PVC, and Fibre Cement.
How To Install Corrugated Metal Roofing On A Shed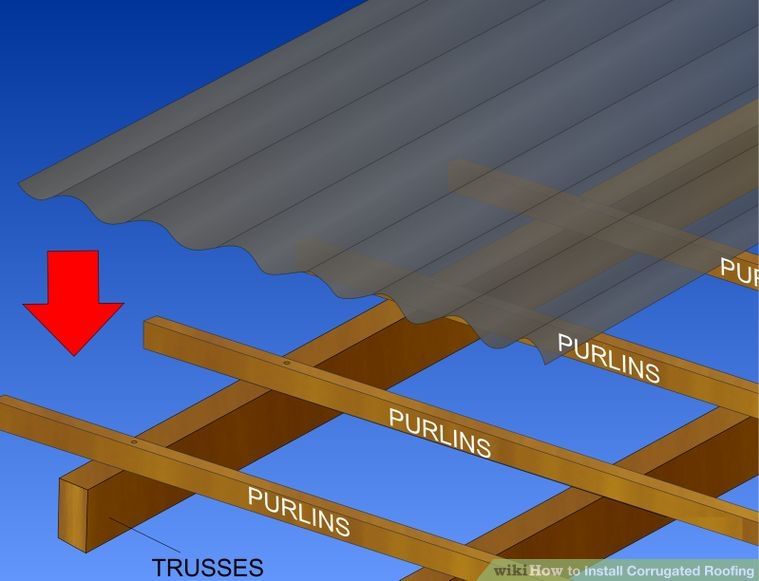 While there are many available roofing options for sheds, metal roofing is the ideal one. Besides affordable, the installation process is also relatively easy and simple to perform. Nevertheless, many homeowners have not had metal roofing installed in their houses yet and wish to know how it is done. So, how to install corrugated metal roofing on a shed?
Don't Miss: How To Vent A Roof
How To Install Eave Trim
After you've installed the roofing underlayment, it's time to install the first piece of corrugated metal roofing trim and flashing.
Eave trim and drip edge is installed on the low sides of the roof and underneath the corrugated sheeting.
It's installed before the corrugated panels are fastened to the roof.
How To Install Corrugated Metal Roof Over Shingles
Ok, so you need a new roof. You may be tired of using shingles and want something else. Something more durable and aesthetically-pleasing than your traditional shingles. Metal roofing materials are always the best option.
But heres the thing, you need a more efficient and effective way to install the new metal roof that will save you time, without incurring extra expenses. You must have asked yourself a dozen times, can I still install my metal roof over this old shingles? The answer to this question and many more hows is what were about to unravel.
Don't Miss: How To Repair A Roof On A Camper
Standing Seam Vs Corrugated Metal
But while there are things to like about corrugated metal for certain applications, Skywalker Roofing doesnt recommend corrugated metal for primary residential roofs. Why not? One key liability is that corrugated metal roofing is secured with hundreds of exposed fasteners. While coated fasteners and washers can help, regular inspections are still required, and fasteners still need to be replaced on a regular cadence. And the other issue with exposed fasteners is that each can develop into a potential leak source over time.
As metal roofing solutions go, a standing seam metal roof has some clear advantages over corrugated metal. A standing seam system is comprised of wider, flatter metal panels with vertical legs or ribs on each end. These panels lock together, and are then mounted to the roof with hidden clips underneath. No exposed fasteners or seams means greatly reduced opportunity for leak development, and standing seam roofs generally require much less maintenance, too. In addition, many homeowners prefer the visual appeal of a standing seam roof, with its smooth panels and sleek lines. You cant beat the longevity factor, either a standing seam roof can easily last 75 years, or longer!
Extra Tips When Installing Corrugated Roofing
How To Install Metal Siding. Corrugated Metal Siding Installation [Screwing Panels Overlap]
When purchasing your sheets, try to order flashing and fixings of the same brand. This will guarantee that every part of your roof system will be compatible.
When storing non UV protected sheets outside ensure they are protected from any direct sunlight that may cause cracks or distortions.
Try to avoid fitting on particularly windy days as sheets can be blown away and damaged.
Avoid cutting PVC in cold weather as this may cause serve damage. These sheets should be stored in a warm room for 2-4 hours before cutting.
Recommended Reading: How Do You Get Moss Off A Shingle Roof
Roofing An Enclosed Building
For enclosed buildings, you can apply roofing felt before adding the panels by stapling every 3 inches on the outside of the felt and about 5 to 7 inches on the interior. Foil-backed single bubble insulation can also be used under metal roofing. Foil-backed bubble insulation has an R-value of approx. 9.2 and blocks 97 percent of radiant heat energy.
How To Lay Roofing Sheets
At Cladco, we want to ensure that once youve purchased our roofing sheets that you know exactly how to lay roof sheets, tile sheets and more in the preferred way. Laying metal sheets in runs is normally the best way to achieve this and we recommend by starting at the eaves and in the corner away from the direction of the prevailing wind . This will help prevent side laps facing into the wind and water ingress.
We recommend when laying your first few sheets to not fully fix them until you are sure they are correctly aligned. This can help mitigate the impact of any false starts to begin with and only once you are sure, is it best to put the remaining fixings in and carry on with the build.
Read Also: Can A Metal Roof Be Installed Over Shingles
How To Lay Corrugated Roof Sheets
For a single pitch roof the minimum pitch we recommend is 10 degrees. For a single run of sheets start at the eaves and in the corner away from the direction of the prevailing wind . If the first sheet is not laid perpendicular to the eaves and ridge, adjustments will have to be regularly made when laying other sheets and a saw tooth effect at the eaves will be seen. This may be unavoidable if the building is not square.
The first row of sheets should extend over the bottom purlin and the eaves so that rainwater can drain into a gutter or beyond the wall.
Sheets should be overlapped by the next sheet in the run by at least one profile or corrugation .
Please note maximum length of sheet we can supply is up to 5m in 0.5mm thickness and 6m in 0.7mm thickness. If you require a longer length, you will need to do a 2-sheet run as above.
You should always overlap the sheets by at least one corrugation. When overlapping sheets its recommended to use mastic lapping tape.
For side laps. It is good practice to use mastic lapping tape and stitching screws to ensure a robust weather resistant joint on side laps. Lapping tape with a section of 9mm x 1.5mm mastic should be run along the crest of the profile that is to be lapped, sheet to sheet stitching screws should then be used at 600mm intervals down the lap to consolidate the bond created by the lapping tape.
Lay The Remainder Of The Row
Once the first sheet is in place, you need to install the remainder of the lowest row of corrugated metal roofing. The sheets should overlap by at least four inches – add a bead of caulk where they overlap – and at the other end of the building, ensure theres an overhang of two inches. Secure the sheets into place with screws.
You May Like: How To Remove Moss From Your Roof
How To Install Peak Trim For Metal Roofing
Most metal roofs have an "A" style design with slopes on both sides of the roof. These types of roofs will use a standard ridge cap.
Peak flashing can also be referred as high side eave trim. It's used when you have a single slope roof and it will cap the high end.
It's installed after the gable trim and is usually the last piece of trim that's installed on a single slope roof.
Many Profile And Color Choices
Metal offers plenty of roof design choices, and corrugated panels come in a wide variety of colors and finishes. There are literally hundreds of corrugated metal roofing colors available, in fact. Want to help your roof blend in? Or perhaps youd really prefer to make it stand out? Either way, theres a custom metal roofing look for that.
You May Like: What Is My Rv Roof Made Of
Bend Trim Ends Closed
Before you install the trim, cut and bend the leading end to wrap it around the corner. Make a series of one-inch cuts with aviation snips at each bend to create tabs. Fold the tabs in with a hand seamer to meet a wall or a corner, or to close a gap created by the trim. Each trim is a different shape, requiring unique cuts and bends.
How To Fix Roofing Sheets
How To Install Corrugated Metal Roofing. 1st Sheet Installation Square Roof Eave/Ridge Overlap
For Box Profile 34/1000 sheets the fixings required will depend on the material used in the purlins. Cladco offer a range of fixings available to fix into most purlin materials. For example:
Self drilling TEK type screws with a 5/16th hex head and a stainless steel and neoprene bonded saddle washers, used in lower section of sheet profile to fix sheet to either wood or metal purlins. Longer screws up to 175mm in length are available for fixing through insulation materials or boarding.
Self drilling stitching TEK screws are available for fixing trims to sheet or sheet to sheet on laps. Colour caps are used to cover screw heads.
To fix the sheets, each 34/1000 Box Profile sheet has 6 troughs, for securing we recommend you fix the sheet into trough 1, 3, 4 and 6. The bottom end of the sheets you can fix in each trough to help prevent wind uplift of the sheets.
Colour caps are used to cover the ends of fixings, this allows the fixing to blend into the sheets colour.
For tile form sheets the fixings required will depend on the material used in the purlins. Cladco offer a range of fixings available to fix into most purlin materials. We suggest a minimum of 45mm screw. For example:
Self drilling TEK type screws with a 5/16th hex head and a stainless steel and neoprene bonded saddle washers, used in lower section of sheet profile to fix sheet to either wood or metal purlins. Longer screws up to 175mm in length are available for fixing through insulation materials or boarding.
You May Like: Where To Buy Tesla Solar Roof
Two: Install Waterproof Felt And Slip Sheet
You dont want to lay your roof panels directly onto the plywood. You need a barrier for protection against things like weather and moisture thats where the underlayment comes into play.
Place the roofers felt flat on all areas of your roof, overlapping each row about two inches. Use the roofing knife to cut the felt around any protrusions, like working vents and pipes. Make sure the felt is smooth and lies flat, then secure it with ½ roofing nails.
The slip sheet goes on top of the felt. It helps protect it from tearing and sticking to the metal roof panels. You can secure it with a few roofing nails to keep it in position.
Tips For Installing Corrugated Metal Roofs
Posted February 18, 2019 by CreativeBuildingSupply
Corrugated metal roofs are light in weight and are made in panels of identical sizes, which contribute to accurate installation estimates. These panels have wavy patterns that greatly facilitate the conveyance of water. This reduces the collection of water which helps to minimize damage by water to your home. Iron, aluminum copper and steel are some of the metals that are commonly used to produce corrugated roofing. Installing these roof panels is easy. Because they are large, hence it doesnt take long before the entire roof area is covered. Here are some tips on how you should install corrugated aluminum roofing.
You May Like: How To Calculate Amount Of Shingles For Roof
Tips On How To Install Corrugated Metal Roofing Panels
Installing a corrugated metal roof is one of the easiest DIY projects that every homeowner should understand. The roof materials are durable and lightweight, making them easy to install and repair.
Corrugated metal roofing panels are available in various materials, including aluminum, iron, copper, and steel. These roofing materials are popular in sheds, patios, garages, workshops, and boathouses. They are durable and can last for up to 60 years.
Besides, their lightweight, corrugated roofing panels boast wavy patterns that facilitate water conveyance into the gutters. This prevents the water from accumulating on the roof, minimizing water damage. They are also available in standard sizes.
There Are Essentially Two Parts Involved In Metal Roof Installation
This involves six steps that ultimately help to install the metal roof.
Step 1
Start by measuring the area of the roof. First, measure it from the ground. This gives you an approximate idea of the area of the metal sheet you will need. Sloping roofs are hard to climb. So, dont take that risk. Also, measure the slop so that it gives the accurate surface area of the roof.
Step 3
Keep the work area organized. Do not keep screws and nails here and there. Have a box for each. Dont keep electric drills switched on. Also, keep the garbage can handy so that you can throw anything you want while working.
Step 4
Many corrugated metal roofing allows you to install it over the existing roof you may also remove the old roof if you dont want it anymore. Start by taking out the vents, boots, shingles, and flashing. Remove all the unwanted nails. Re-position the gutters if they are in the wrong place. Try to remove the old roof on a sunny day.
Step 5
Fix any damages that you see on the roof. Cracks and dents are usually common. Fix them as soon as you see them.
Step 6
Add an insulation layer so that it traps moisture between the sheathing and the metal roof. Secure the roofing felt using a staple gun.
Recommended Reading: How To Pressure Wash A Shingle Roof
Install The Corrugated Metal Roofing
Start placing the roofing from the edge of the roof with a hammer and screws. In terms of corrugated metal roof screw placement, its recommended to place the screws every 18 to 24 inches. The first screw should be placed at around 6 to 8 inches mark from the bordering.
Before screwing the screws, dont also forget to add one washer for every screw. Afterward, use a silicone sealant to seal the panels tightly. When applying the sealant on each panels underside, place each panel on top of the shingle in a gentle manner. The silicone sealant will automatically spread when you slowly press the board.
Create A Purlin Framework
Purlins can be used create a supporting framework and to transfer the loads imposed by the metal sheeting onto the primary building structure. Purlins can be fixed to rafters using boltable cleats.
As a rough guide purlins should be at least 50mm wide to ensure sheets can be easily fixed, and in the case of 0.7mm thickness sheeting, be spaced no further than 1.2m apart. 1m apart in the case of 0.5mm thickness sheeting. Exact requirements will vary if in doubt we suggest obtaining advise from a qualified professional.
All purlin joins or laps should be supported by a rafter.
All purlin joins or laps should be supported by a rafter.
Once purlins have been fitted and a supporting framework created an inspection should be carried out before any further work is carried out. A full apropriate safety check should be carried out, It should include but not limited to:
The purlin framework is correctly aligned and levelled
Purlins are correctly spaced and within specified tolerances
There are no protrusions e.g. bolt heads on the face of the framework.
Fixings used to attach roofing sheets to purlins having to be durable and able to withstand considerable wind pressures. The exact type of fixings required will depend on the roofing sheet and purlin type , however, we recommend self-drilling TEK type screws with a 5/16th hex-head for optimum performance.
Don't Miss: Is It Ok To Power Wash Roof Tiles