Choosing The Right Roofing Materials For Your House
Flat Roof Materials Solutions Guide – Need A Flat Roof? – How Do You Decide?
Choosing roofing materials for your home is a big, exciting decision. Beyond keeping your family safe and comfortable, your roof majorly impacts curb appeal. Most roofs occupy 40% of a home's visual exterior, so it makes sense that you'd want roofing materials that look good!
But there's more to deciding on a type of roofing material than color and design. Your regional climate, local building and fire codes, and budget all matter. Plus, your home construction factors into whether slate tile, clay tiles, asphalt shingles, metal roofing, or another roofing material might be best.
Here, we dive into four of the most common roofing materials to help you make the best choice possible.
What Are Some Common Roofing Materials
A roof system consists of various types of materials that are interconnected in order to provide weatherproof protection in buildings. In addition to being waterproof, roofs help protect buildings from the sun, rain, snow, and other elements.
Roofing materials vary depending on the shape of the roof, location and climate, and whether the use is for residential or commercial. Asphalt shingles are popular for residential use as they are fairly inexpensive and have a good lifespan. In commercial construction where flat roofs are more common, metal, EPDM, and built-up roofs are extensively used.
A wide variety of roof coverings exist today, each with its own advantages depending on the use. The most common roofing materials available include asphalt, wood, metal, clay, cement and slate, glass and plastic, and plastic liquid coatings.
Asphalt Shingles
Asphalt shingles are die-cut from heavy sheets of asphalt-impregnated felt faced with mineral granules that act a a wearing layer and decorative finish.
The most common type of asphalt shingle, used predominently in residential roof construction throught the United States, is 12 inches by 36 inches in size.
Typically, asphalt shingles are slotted twice along their width in order to make them appear as if they are three smaller shingles. This gives the roof a finer visual scale when it is finished.
Wood Shingles
Metal Roofs
Clay Tiles
Cement Tiles
Slate Tiles
Glass and Plastic
Built-Up Bituminous Roofing
Coal-Tar Types
Round Up Your Equipment
Never mind new when used will do.
Equipment and tools to start a roofing company will depend on the type of roofing you provide. Residential roofing is cheaper and the easiest way to start. Commercial requires more capital.
Equipment will probably account for the largest portion of your startup costs. So, buy tools as jobs require them and never spend more than you have to during startup. Dont buy a new truck when an old one will do. You may be able to get a good used one for under $10k.
Here are some basic items you may need:
Recommended Reading: How Much Shingle Roof Cost
Remove Old Roofing And Repair Any Damage
While it is possible to install a metal roof over old asphalt shingles, a full tear-off of the old roof is highly recommended. Removing the old roof will allow you to inspect the sheathing and flashing and replace any problem areas before moving forward. That way, the sheathing and flashing can be inspected before the new roof goes down, reducing the chance of a leak.
Start from the top of the roof and remove the old shingles along with the flashing, underlayment and vents.
Hammer down or pull any large nails that are exposed by the removal.
Inspect the underlying roof sheathing for damage and make any needed repairs with sealants and roofing adhesive.
Install a layer of roofing underlayment, including a layer of felt paper or rosin slipsheet, as recommended by the roofing manufacturer. Metal panels expand and contract at different rates than the sheathing, so its important to follow manufacturers guidelines regarding underlayment.
What If You Have A Steep Roof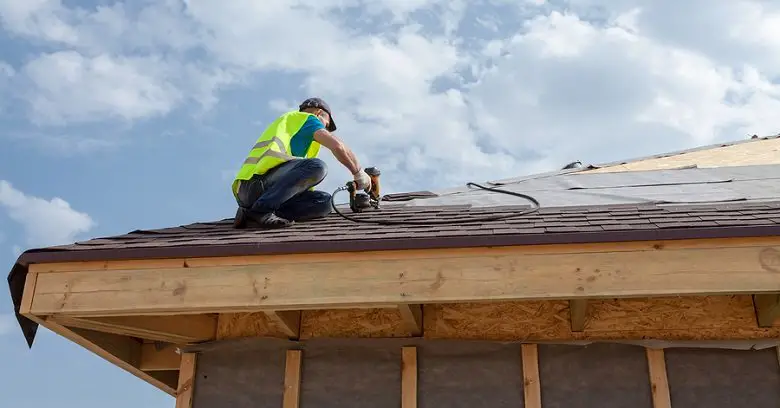 To measure a steep roof, use one of the following alternate methods:
Method 1
Calculate the roof length by measuring the exterior walls plus the overhang for the length of the house parallel to the ridge.
Next, throw a rope over the ridge and mark it where it meets each eave. This will give the width dimension to use in figuring your area. This should be done on each roof section containing a horizontal ridge.
Method 2
Determine the roof area by using a mathematical formula that accounts for the roof length, total span, and roof pitch:
Determine your roof pitch by using a pitch gauge or a smartphone app .
Measure the length of the roof surface, including overhangs.
Measure the span of the roof, including overhangs.
Multiply the length x the span. The result will be the plane area. Use the chart below to calculate the total area of the roof.
Calculate the total roof area Plane Area x Correction Factor = Roof Area
Recommended Reading: How To Repair Mobile Home Roof Trusses
Tear Off The Old Shingles
Its impossible to properly install new flashing and underlayment if you dont tear off the old roof beforehand. When tearing off the existing shingles, be sure to remove all the old nails or pound them flat. Protruding nails will tear holes in your new shingles. If you have movable items near your house and youre worried they might get damaged, relocate them. Invest in a few large tarps to protect your plants and landscaping and to catch the thousands of nails that will rain down off the roof. It can be downright impossible to remove old self-stick ice-and-water underlayment, but its OK if you have to leave it in place. And if at all possible, have the rented trash bin parked close to the house so you can toss in the old shingles right from the roof.
Types Of Metal Roofing
Before we get into the steps on how to install metal roofing its important to understand what types of metal roofs exist. While metal roofing can be made from a variety of metals, tin, zinc, steel, aluminum and copper are the most widely used and most commonly available options. Each metal has its own advantages and disadvantages, as well as cost considerations. Steel, for example, is the least expensive option while copper is the most expensive.
In addition to material choices, metal roofing is also available in three design styles: through-fastened panels , modular panels and standing-seam panels.
Through-fastened corrugated metal panels are the most common and readily available type of metal roof. They can be installed over roof sheathing or purlins.
Modular panels, which mimic other roofing materials like asphalt shingle and tile, are also available in a wide range of colors and styles. They, too, can be installed over solid sheathing or wood battens.
Standing-seam panels install over solid or skip sheathing and have the most complex installation process, so are typically best left to professional roofing installers.
Also Check: Roofing Cost Los Angeles
Ladder Hoist Or Rental Information For Boom Trucks
It is against OSHA regulations to carry shingle bundles up step or extension ladders, as they may be considered heavy objects that may cause you to fall. Instead, you need a roofing hoist or a ladder hoist to lift the shingles up for you. Do not attempt to make a shingle bundle lift of your own design, as it will open you up to liability. Instead, purchase a reliable ladder hoist to protect your employees and yourself.
Boom trucks or lifts are another option. These trucks have powered conveyor belts to bring the shingles to height. Whichever method you choose to help you get the shingles to height, be sure to properly stack shingles on the roof. Your last option, and perhaps the easiest, is to work with a distributor that offers rooftop delivery, so you dont have to worry about getting the shingles to the roof at all.
Reviewing Current Roof Safety
New Roof? Do I need new gutters too? Roofing insights
As far as practicable, schools are advised to prevent accessible routes to roofs and warn on the risks. Where possible decisions should be taken to separate ancillary buildings and structures from school buildings to prevent staircasing on to other roofs. Schools should check whether fire escapes from roofs are still active, and if no longer required, consider blocking access or complete removal.
It is advised that all schools should take note of any translucent roof items and visually check their condition for signs of deterioration. Contact your property adviser if there are any concerns.
You May Like: How To Extend A Metal Roof Overhang
Roofing Materials To Consider For Your House
Roofing your house rarely rates high on the list of fun and exciting home remodeling projects. But when your home develops a leak, your attitude might take a sharp turn. Suddenly, the prospect of a dry, tightly sealed house begins to look very attractive. A beautiful new roof can also improve the curb appeal of your house.
There are many types of roofing materials to choose from, and a little bit of investigation might lead you to consider a new type of roofing rather than simply replacing the same material you now have. Choosing the right roofing material requires that you weigh appearance, longevity, cost, and structural issues.
Here are 12 roofing materials to consider when it comes time to replace your roof.
Finding The Total Roof Area
Once the area of the roofs footprint is known, the overall roof area can be found by accounting for the roofs pitch. The pitch of the roof is the rise over a 12-inch run. Use our roof pitch calculator to find the pitch of your roof.
Next, multiply the footprint of the roof by the multiplier below for your roof pitch to find the overall roof area.For example, a 4/12 pitch roof that is 100 square feet:
100 × 1.054 = 105.4ft2
Roof Pitch Area Multipliers
Multipliers for common roof pitches that can be used to find the total area of a roof.
Recommended Reading: Roof Replacement Cost In California
Select Your Method Of Payment
Start with cash.
With everything in place, you now need to decide how you want to be paid. Cash and perhaps checks are definitely a smart way to start.
As your business grows, you can appeal to more customers by accepting credit and debit cards. This is easily done by contacting your bank and opening a merchant account. In the US, you might also consider the latest trend of working with a finance company like GreenSky to offer preapproved loans for your customers.
What Are The Materials Used For Roofing
In the previous blog, we have discussed different roofing types. How does it relate to materials used for roofing? They are basically the same, but here, youll get to know more.
The roof, as we know it, is an essential part of your home that completes the covering . Without a roof that will serve as a protection over your head, human lives and properties are at stake. We need something over our heads for protection against heat, rain, wind, snow, and extreme weather conditions.
Different home designs require different roof materials. Both for residential and commercial, the diversity of available materials for any roofing type is not lacking. Meaning, it now depends on the property owner what type of roofing material he or she prefers. Your roofing contractor and engineer may recommend whats appropriate for your home and your budget. It will be helpful if you discuss with your roofer.
Also Check: Briarwood Pro Shingles
Materials Included With Your Roof Replacement
Your roof is more than just the shingles you see from the street. It's a combination of different roofing materials and components that come together to form a complete roof system.
But what are these materials and why are they important to your roof? To help you understand what makes up a roof, we're going to break it down for you.
Bill Ragan Roofing has helped educate homeowners in the Nashville area about every aspect of the roofing industry since 1990. Now, we're going to do the same for you.
Every part of your roof has a crucial job to keep you and your family protected from the elements. There are things that wont necessarily need to be replaced like your decking and flashing.
But when you get a new roof, pretty much all your roofing components and accessories are replaced.
How To Install A Roof Plumbing Vent Flashing Boot
Installing a roof plumbing vent is typically an easier task than flashing a chimney. Here is how you do it:
Step One: Install shingles as normal up to the base of the plumbing vent.
Step Two: Place the flashing or boot onto the plumbing vent, so the base is resting on shingles. Momentarily lift the boot and apply sealant to hold the flashing in place.
Step Three: Firmly push the flashing back down into place.
Step Four: Install the next course of shingles. When you reach the plumbing vent, allow the shingles to overlap the top of the flashing.
Step Five: To make room for the vent itself, cut out a circular piece of the shingles, as shown below.
Step Six: To secure the circular edge of the shingle, apply roofing cement beneath it. Ensure you also nail it where you normally would.
Do you need information about how to install the other kinds of roof flashing? IKO has already explained how to install drip edge flashing and how to install metal valley flashing.
Old roof plumbing vent flashing boot
New roof plumbing vent flashing boot
You May Like: How Much Does A Roof Cost In California
How To Install Step Flashing Where There Is No Wall Corner
If your roof face connects to the wall cleanly without creating a corner, then you dont need to create a corner flashing piece. Instead, you will need to install kickout flashing to help guide the water into the gutter. While some professional roofers will make their kickout flashing by hand in copper, if youre using galvanized steel, it will be too tough to bend properly. Instead, buy a premade kickout flashing piece.
Heres how to install kickout and step flashing:
Step One: Place your kickout flashing on the base of the roof, snugly against the wall. Briefly remove the piece and apply roofing cement where it will sit.
Step Two: Place the first piece of step flashing over the end of the starter strip, ensuring it leads directly into the kickout flashing. Use roofing cement and two nails to secure it to the roof deck. Place the nails on the base of the step flashing piece, so youre nailing into the deck. Also place the nails high, so the next course of shingles will cover them.
Step Three: Once the kick flashing and first piece of step flashing are secure, you have to apply a shingle. First, apply sealant to the base of the flashing. Lay a shingle on top of the flashing and nail it as usual. Notice that the bottom of the shingle covers the flashing base and nail.
Step Four: Finish the whole shingle course.
Step Five: To complete the step flashing, follow the same procedure as described above for installed step flashing with a corner piece, starting at step seven.
How To Choose The Right Roofing Material
How to Estimate Roofing Materials for Gable Roofs â Construction Math
As more homeowners have learned to embrace the merits of curb appeal, roofs can be one way to achieve that goal on a broad scale. Most addresses have steep roofs, Moody says, so their appearance is more noticeable to passersby. The roof is like a homes window dressing, she says. It can really make a statement on the house.
In order to ensure that this statement is visually and structurally solid, start by taking a stroll around the neighborhood. Observe the different roofing materials being used on surrounding properties, noting your likes and dislikes, and then research the various roofing codes dictated by your area. Some regions have building codes that restrict the types of acceptable materials and how a roof should be installed, She continues. For example, California requires all wood roofs be treated with a fire retardant and pass a weathering test.
Once you have an idea of the popular roofing materials in your area, you can start to learn which ones are best for you.
Also Check: Proper Screw Placement Metal Roofing
Installing Translucent Plastic Sheeting
To manage the risks of installing plastic sheeting, we have some specific installation requirements which you must follow.
Make sure your suppliers and installers are aware of them. As new products enter the market, suppliers, installers or project managers may suggest some of the measures below are not necessary. Talk to your property advisor about getting an exemption.
Building A Basic Gable Roof
1Understand the steps involved. Once youve chosen your style, design, and materials, its time to actually build your roof. The process can be broken down into four main steps, and they are:
Framing: this is the construction and installation of the roof frame, which can be done with premade trusses.
Sheathing: this is the layer of material that goes on top of the frame and provides the surface of the roof.
Underlayment installation: this is a protective layer that covers the sheathing. This step may also include the installation of an ice barrier on top of the underlayment.
Roof cover installation: this layer goes on top of the underlayment and protects the roof from the elements.
2Mount the trusses. To complete this step, the wall frames of the building must already be level, plumb, and square. Use ladders or scaffolding if you are building the roof onto a building that is still a frame. Hoist the trusses onto the roof. This can be done either with many pairs of hands, or with the assistance of a crane.
Trusses are often spaced 12, 16, or 24 inches apart.XResearch source Your spacing will depend on building codes and how much weight the roof will have to hold.
Without a crane, it will be easiest to hoist the trusses up onto the roof lying flat, and once there they can be raised into position.
Once all the trusses are installed, install permanent bracing as per the truss manufacturers instructions.XResearch source
Repeat the same process for the other side of the roof.
Read Also: How To Tell If Your Roof Is Leaking